THANK YOU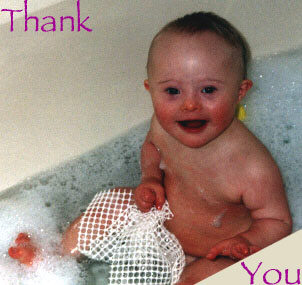 These people may be good resource people for you to, with your sone or daughter with Down Syndrome:
Many people have helped with Jacob. To be honest though, Jacob has tended to best everyones' plans for him by doing better and faster than even the professionals estimated in their plans for him. So our first big thank you is to Jacob himself for being so motivated.
His grandparents, brothers and sister can't be missed of course, they have helped immensely in ways too many to mention.
Day Care can't possibly be missed, the staff have been so supportive, co-operative and loving. Jacob has absolutely thrived and they have obviously helped with his development in very important ways. We also thank the lady from there and her husband, who have helped provide us with some time out when Carolyn and I needed some time alone or with our other kids; believe me, Jacob can be a handful with batteries that seldom run down, only needing a few hours sleep a day – sometimes less than six hours in an entire 24 hour period. We rejoice though that a baby who is wakeful tends to be more intelligent, have a higher IQ, than one who isn't.
Then there is our Down Syndrome worker from Adelaide – the Down Syndrome Society – who gives us much support and encouragement with Jacob generally.
The toy library person for providing so much specialised eqipment that a normal family just couldn't afford or think of for that matter, as well as the specialised toys.
The Early Links worker for her input to the day care centre in how to help develop Jacob.
The physiotherapist, occupational therapist and speech therapist for their professional input.
A very big thank you to CentreLink for their financial support with Jacob's daycare and for their understanding of his very important special needs.
We also thank those who helped early on when needed, such as the Millicent Carers Respite and the lady who helped them arrange care for our other kids, when we had to take Jacob for his hearing test in Warnambool (and thank you to the audiologist as well). Also the visiting nurses who did some of Jacob's vacinations on home visits; saving us a great deal of time and effort.
Thank you to all of you who have helped and also to those that I fail to mention here who have helped Jacob to become what he has become.